20+ Web Design Trends of 2020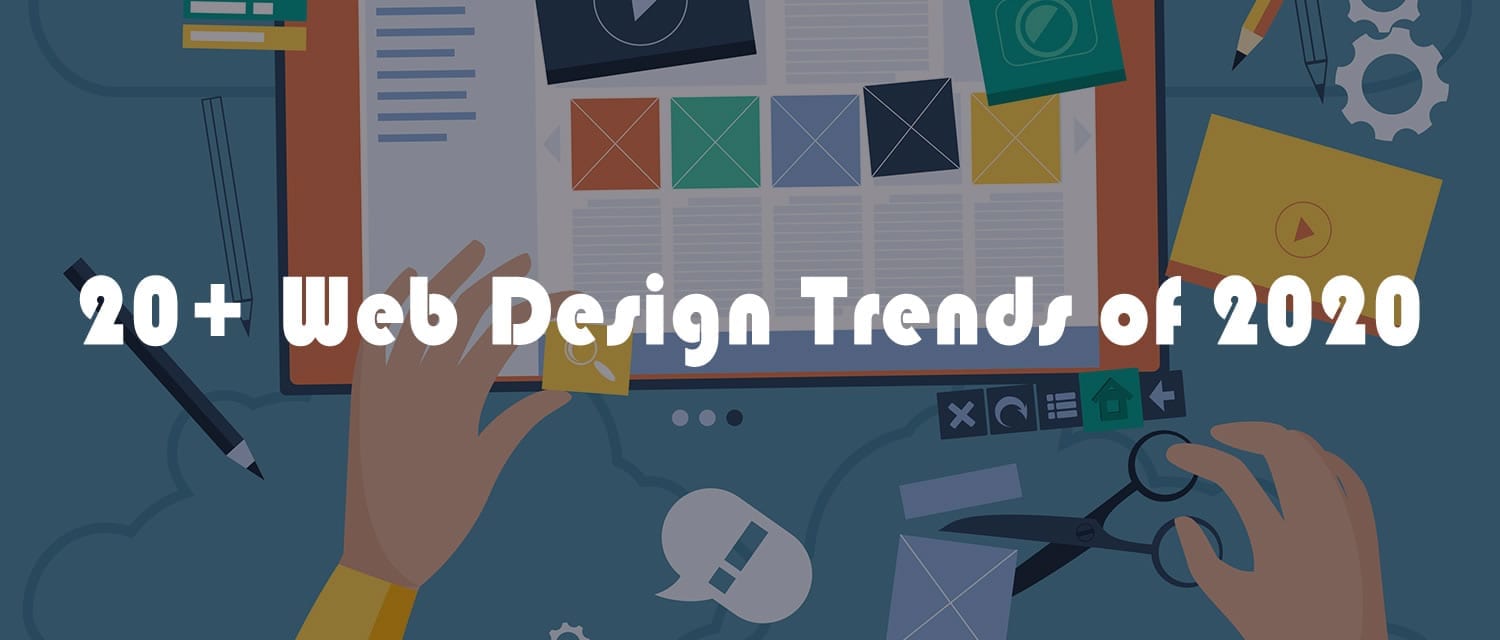 Looking at the latest web design trends will allow us to peer into the future of where the web is headed. This doesn't mean you need to fully switch up your current design to adhere to the latest trends, but they're good to keep an eye on nonetheless.
If your website has been in need of a makeover, then maybe this will be the year you finally switch things up. Contact us here at artKenya if you need help!
If anything this year bodes well for web experimentation. It seems that people are bored with the same old same old and want a new and exciting take on classic design. This doesn't mean making sites so experimental that they're hard to use, but instead more interesting, engaging, and unique.
Learn about the biggest web design trends of 2020 and what they mean for the future of your website. Then, contact us to help you bring these to life on your website.
Top Web Design Trends of 2020
1. Responsive Design
Responsive websites are not a new web design trend in 2020, but they're an important enough one to still include here. As mobile usage only seems to keep going up – it first surpassed desktop a couple of years ago – making sure your website works at least as well on mobile devices as it does on bigger screens is crucial.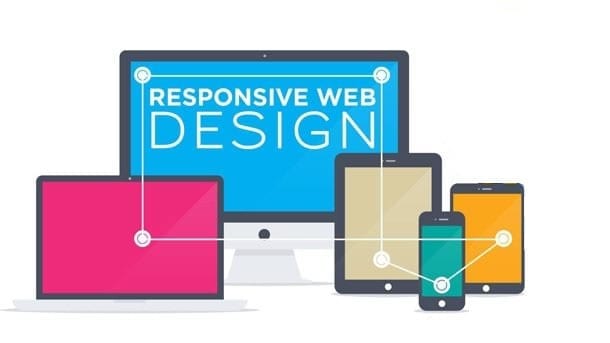 Visitors quite simply won't stick around if your website provides a disappointing mobile experience, and it's bad for SEO on top of everything else.
While you could create a separate version of your website that works well on mobile devices from the one people see on desktop, for most businesses the better option is to make one website that's responsive.
On a responsive website, each page has all the same copy, images, and elements no matter what device you view it on, but they're arranged differently based on the size of the screen. An image that shows up next to the text on your desktop may show up below it on a smaller screen, for instance.
Making your website responsive ensures that your mobile users get all the same information and value from your website, while still having a user friendly experience.
2. Chatbots
You've probably noticed in your own internet surfing that a lot of business websites now have a little window pop up at the bottom right side of the screen when you land on the website, giving you the chance to chat with a representative.
Adding a chat window like this to your website means any visitor with a question can have it answered immediately. But for many websites, having someone available to answer those questions in real time is too much of a challenge.
One possible solution: utilizing a chatbot. You can program a chatbot to answer the most common questions your customers have so that most visitors still get their answer right away. For questions the chatbot doesn't know, you can at least program it to provide details on how best to get in touch with a live representative so your visitor still knows what to do next.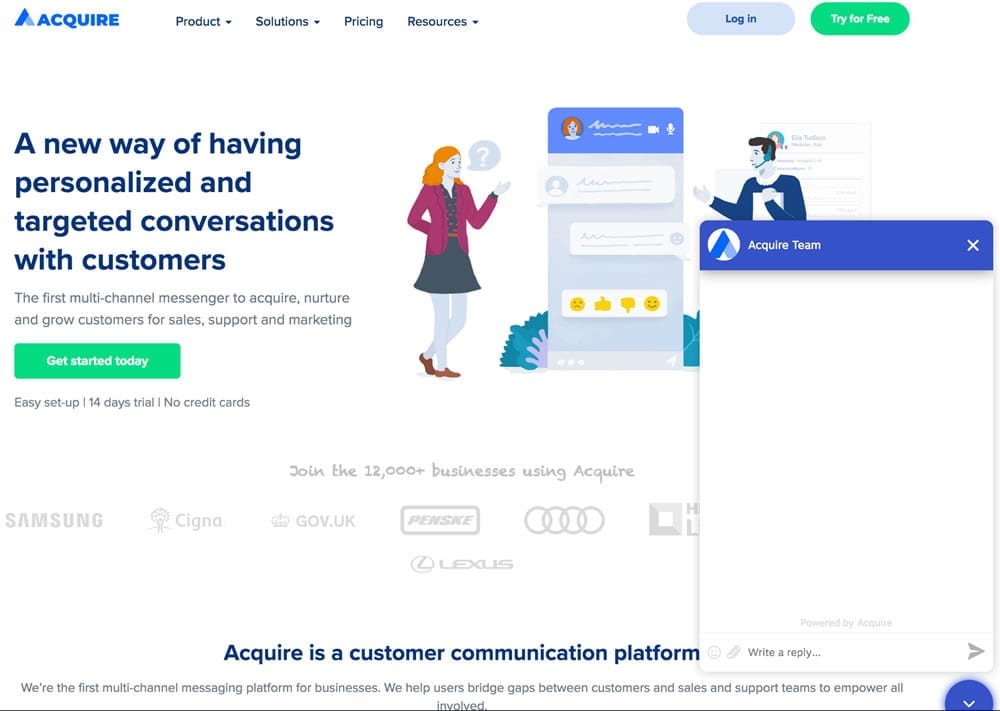 Chatbots don't make sense for every type of website, but if you have a business website and you frequently hear a few main questions from your visitors, they can save your staff time while still providing your visitors with a good experience.
3. Animation
Autoplay videos are very much out, but that doesn't mean your website has to be completely static. You can add some movement to your web design with some simple animations.
A growing number of websites are working animations into the background or images of web pages. A good animation will draw the eye and capture a visitor's interest, without distracting from the main information you want them to see on the page. It's a web design trend that makes your website a little more engaging and adds some personality.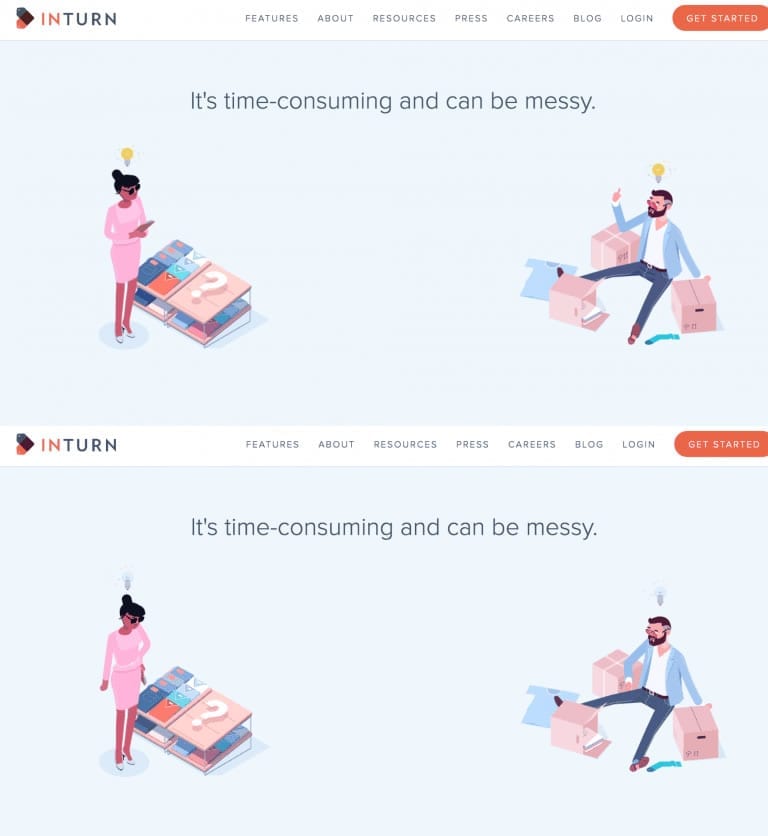 4. Microinteractions
Microinteractions take animation one step further in terms of user engagement. These are animations that respond to what the user does on the page. If you notice a website changing when you mouse over a particular spot, or an animation that's triggered by scrolling down – those are microinteractions.
These create a positive user experience because they hand visitors power over what they see as they interact with the site. Knowing your actions shape the design in front of you is a good feeling, even if it's only in minor ways.
Microinteractions are becoming more common around the web, making them a good web design trend to have on your radar in 2020.
5. Original Illustrations
Stock photography's easy, but it doesn't add any personality to your website. That's why many website owners are now turning to original illustrations for the images on their pages.
Custom illustrations do come at a cost – artists must be paid – but they can transform the style of your website and create an entirely unique experience. Custom illustrations often feel playful, while still doing the work of communicating something about your brand.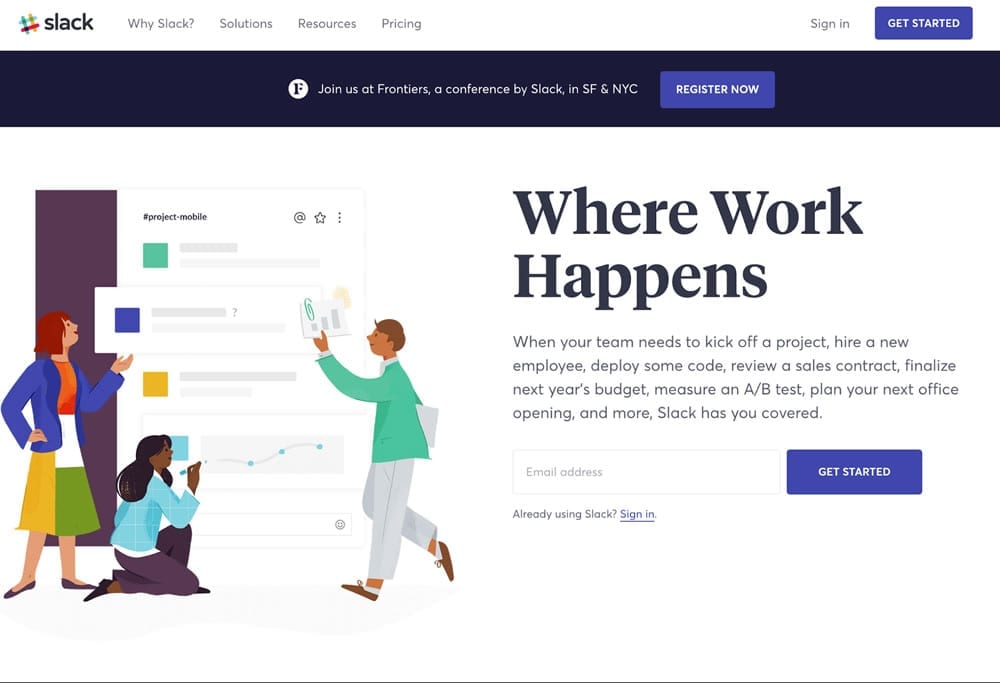 You get to choose the colors you want to include and can craft imagery that might be hard to stage in a photo. If you can find a good artist for your website, they're a good way to inject some extra personality into the website experience.
6. Including Social Proof
So far, most of these website design trends come with a fairly hefty price tag that may be out of reach for small businesses or websites devoted to passions rather than profit. This one is much more affordable.
Social proof is a way to convince new visitors that you're awesome by showing evidence of your success with other visitors. For a business, it could be logos of companies you work with or testimonials from other customers. For a blog, it could be publishing the number of email subscribers you have.
You can (and should) tell other people how awesome your website is in your copy, but your words aren't going to mean as much to visitors as proof that other people like them think you're awesome. Find a way to work social proof into the design of your website to better highlight your value to new visitors.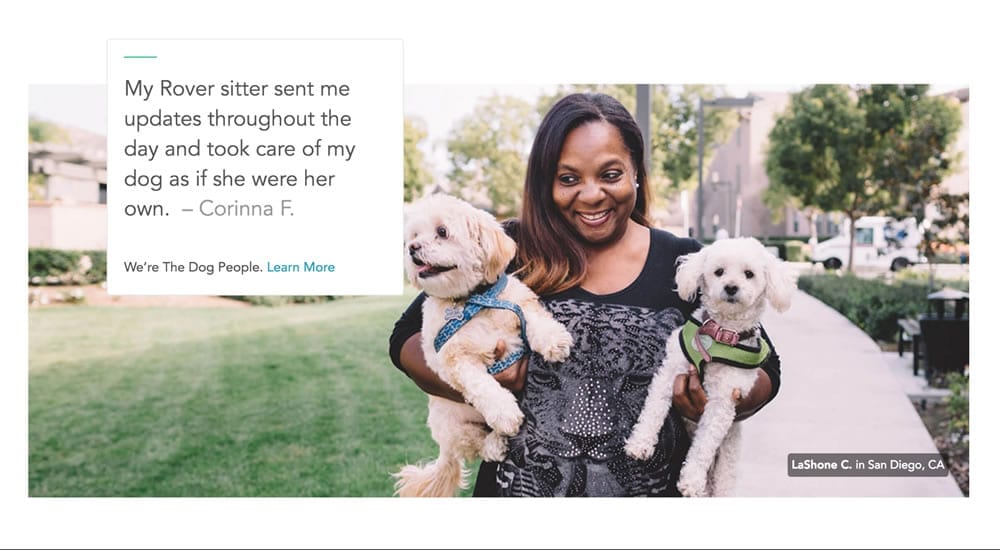 7. Hamburger Menus
This is a controversial web design trend that's commonly used on apps and mobile websites because it's an easy way to provide a menu that takes up very little space. The hamburger icon itself is very small, and it opens up your main menu when you click on it.  As it's become more familiar to internet users with the growth of mobile, its use has started to spill over into the design of desktop websites as well.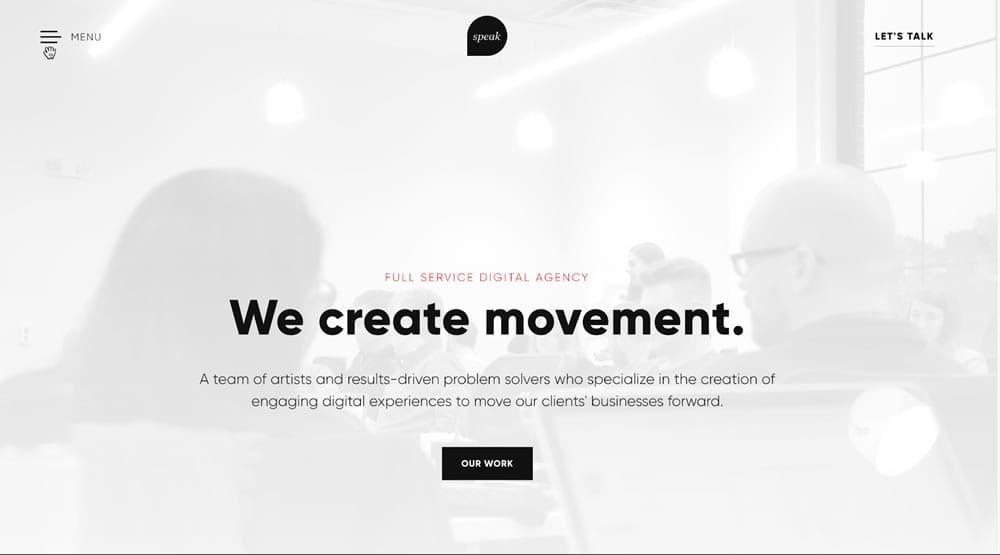 A hamburger menu removes the list of pages in your main menu from all the pages of your website and puts them behind the hamburger icon. If you want a website that has a very clean design, it allows you to include fewer elements on each page while still providing the navigation items your visitors need.
As mentioned though, it is a controversial web design trend. It may not be right for your audience. This is a trend you should be very intentional about considering – only use it if you have a good reason.
8. Rounder Edges
For a while buttons, windows, and containers on websites tended to have sharp corners. Recently more web designers are starting to shift their website designs toward softer, rounder edges.
This is a web design trend you can see in buttons and chat windows around the web.
Plenty of websites still maintain their sharp edges, and some use a mix of both. This isn't a trend that's outright replaced the former way of doing things. But if you want to keep the shapes on your website a little softer, you'll be in line with one of the web design trends of 2020.
9. Tactile Design
Another common trend of the past was keeping web design flat. Many websites are now starting to buck the old trend by adding more shadowing and depth to the images on their pages.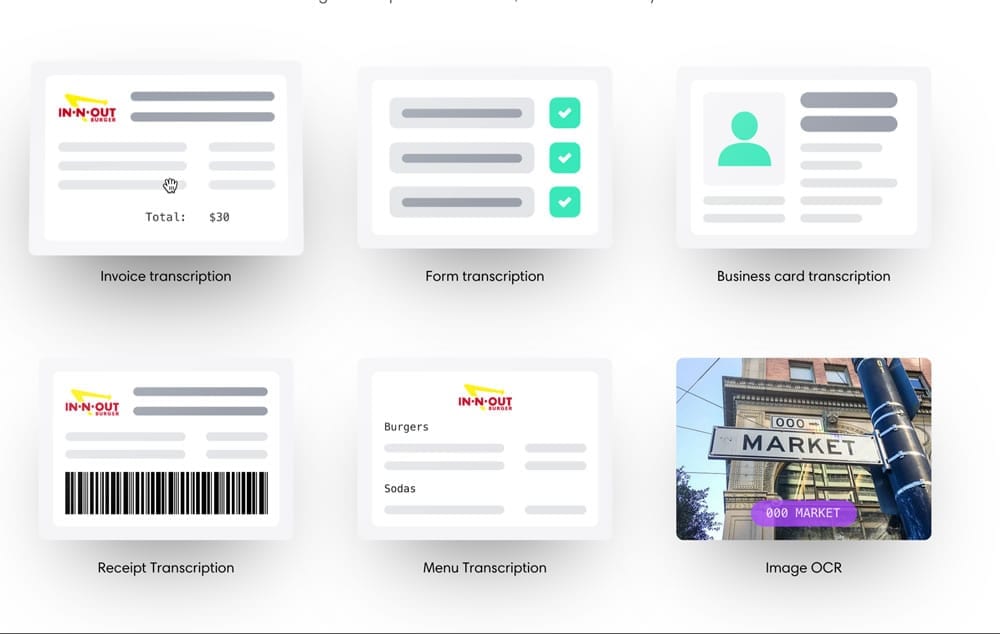 Tactile design can bring the images on your website more to life for your visitors. In addition, it provides a way to add emphasis to your images. The difference is often subtle, but it changes the user experience of your website and adds a little more realism.
10. Unique Fonts
Choosing a unique font is an easy way to add some personality to your website and make it stand out a bit more. Fonts are part of a website that many visitors don't really notice, but you can use your font choice to add some additional style to your website and draw more attention to important words.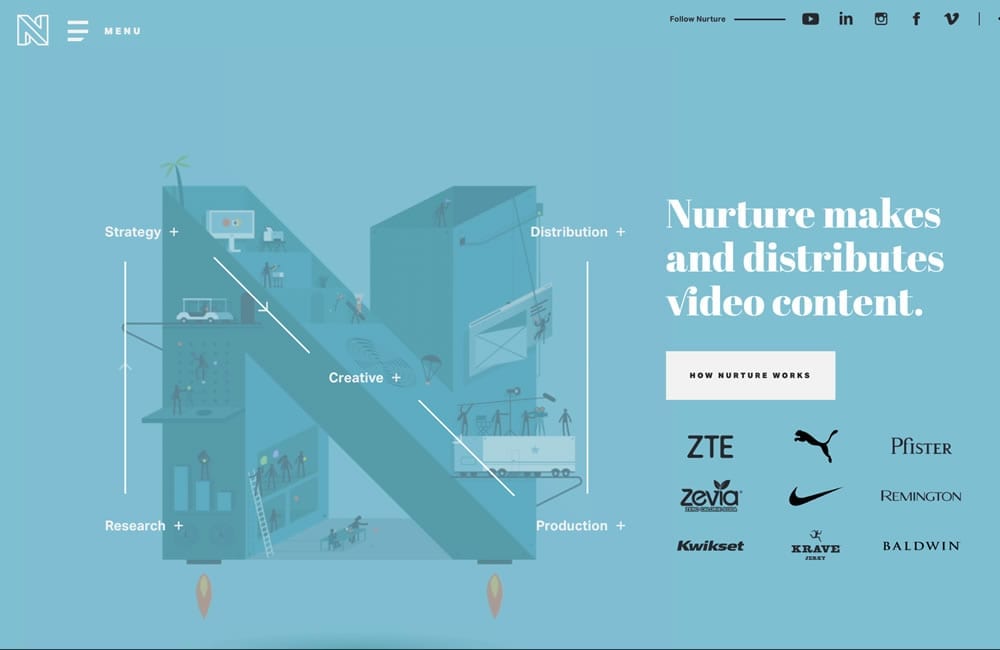 Make sure that any font you choose is easy for your visitors to read. Style shouldn't trump clarity here. But as long as you keep the text on your website legible for all your visitors, you can use your font choice as a way to add some extra personality to your site.
11. Asymmetry
A bold choice that's showing up on some websites now is asymmetric design. Using asymmetry in your web design provides a unique experience for your visitors, especially as it's still not a particularly common design choice at this stage.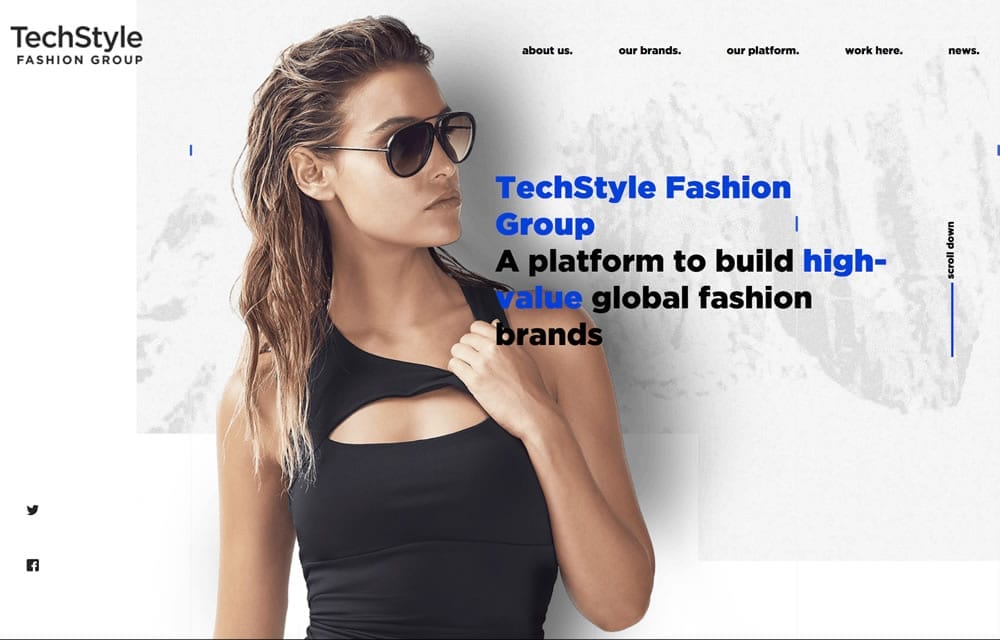 This web design option definitely isn't for everybody. Because it's uncommon and unexpected, it might be less intuitive for some visitors. And it can complicate a website's ability to remain responsive. But if you want to provide a website experience that's outside of the box, going asymmetrical can do that.
12. Accessible Design
If you don't have any disabilities yourself, you've probably approached web design in the past without thinking about how people with disabilities will experience your website. That's unfortunately normal – many web designers just haven't had accessibility top of mind in the past.
But that's beginning to change. One of the web design trends of 2020 is working to make websites more accessible for everyone. Design magazines and blogs have started to provide tips for more accessible web design.
Designing an accessible website requires broadening your perspective and doing a little work, but when you commit to it, you open up your site to an audience that was left out before.
13. Data Visualization
"Big data" has been a buzzword for a few years now and businesses in all industries have seen the growing influence of data on the tools and latest trends that shape how we do business. Perhaps it was only a matter of time until the influence of data made its way to web design as well.
Many websites are now incorporating data visualization into their design. In some cases it becomes a part of the main website, in others they launch a separate site to highlight valuable data they've created.
In either case, data visualization becomes a part of the story the brand tells and the visual identity they have on the web.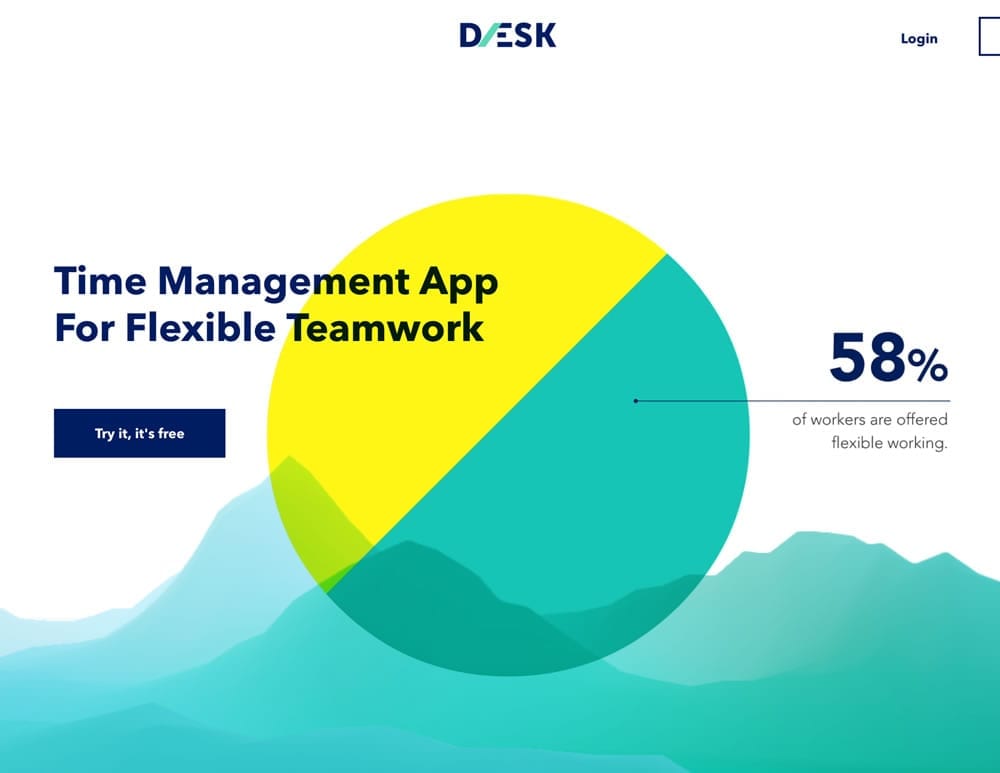 14. Bold Colors
A lot of the web design trends for 2020 are about standing out and this is no exception. Many websites are employing color schemes that are bright and bold. Bright colors provide a distinctive experience that make your website more memorable.
You can use your color choices strategically to draw attention to parts of the website you most want people to see.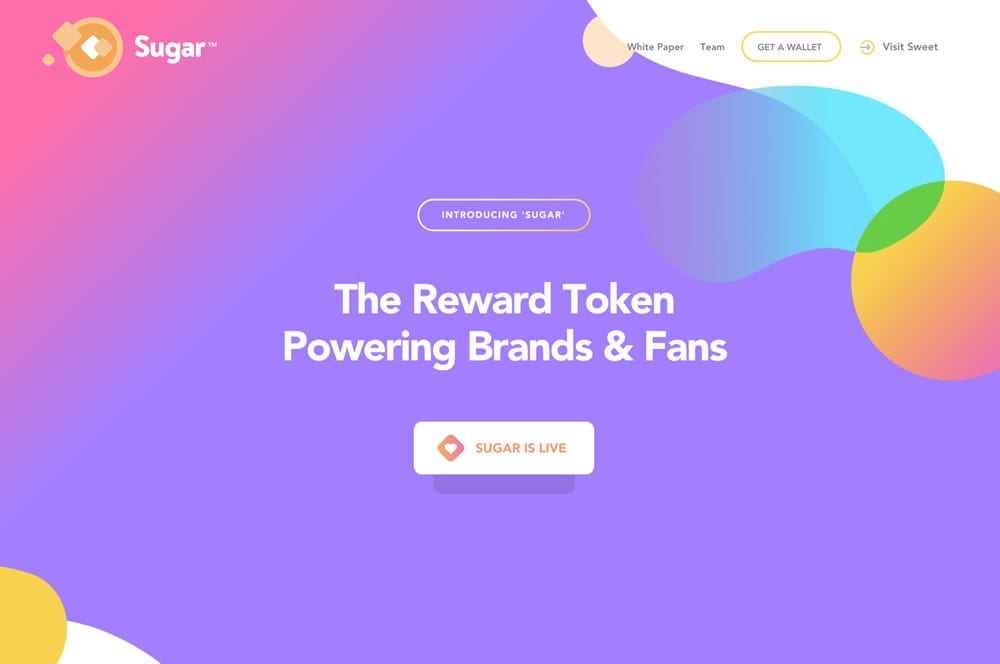 This is another website design trend that isn't for everyone. Some brands will be better served with more subtle colors, but if you're looking for a way to make your website stand out and really get attention, making bold color choices could do the trick.
15. Floating Navigation
Most of the websites you visit have their navigation in the same place: across the top of the website. Some websites are experimenting with different options though. We already talked about the hamburger menu option, but another possibility is floating navigation.
Floating navigation stays visible even as you scroll down the page. It provides a unique experience, but also offers the practical benefit of keeping all the navigation options present and visible no matter where your visitor is on the page.
You can see an example of what that looks like on the Anchor and Orbit website. As yet, it's not a particularly common web design trend. But for any website owner looking for another way to stand out, it makes your website a little more distinctive.
16. A Focus on User Experience
Offering your visitors a solid user experience should be at the top of your list. Today's web users demand an enjoyable user experience above all else.
If your website is confusing and hard to use you're not only going to be annoying your visitors, but you're going to cost your business a lot of money.
This is doubly true if you're directly selling anything through your website. The act of finding a product, adding it to the cart, and completing the purchase should be entirely seamless.
In the past it seemed like web design trends and most websites would neglect the journey of the user and instead placed a focus on having a trendy design. No matter how "cool" your website looks, there's really no point unless it's converting your visitors and they're actually enjoying their experience.
As competition online continues to grow more fierce, expect those websites that place a focus on user experience first to have long and successful futures.
17. Clean and Clear Design
Having plenty of whitespace has been an important web design trend for years. However, recently it's grown in its importance and application.
The biggest reason whitespace continues to be a dominating trend is because it makes your website much easier to use. By incorporating a lot of whitespace into your design you're not bombarding your visitors with too much information.
It also gives you the room to focus on important areas of your site. Or, direct your visitor's attention to areas that are the most beneficial to them.
Having plenty of whitespace is a central tenet of minimalist design. Minimalism will continue to be a dominating trend well into the future. By having a minimalist design you make it easier for your users to find what they're looking for.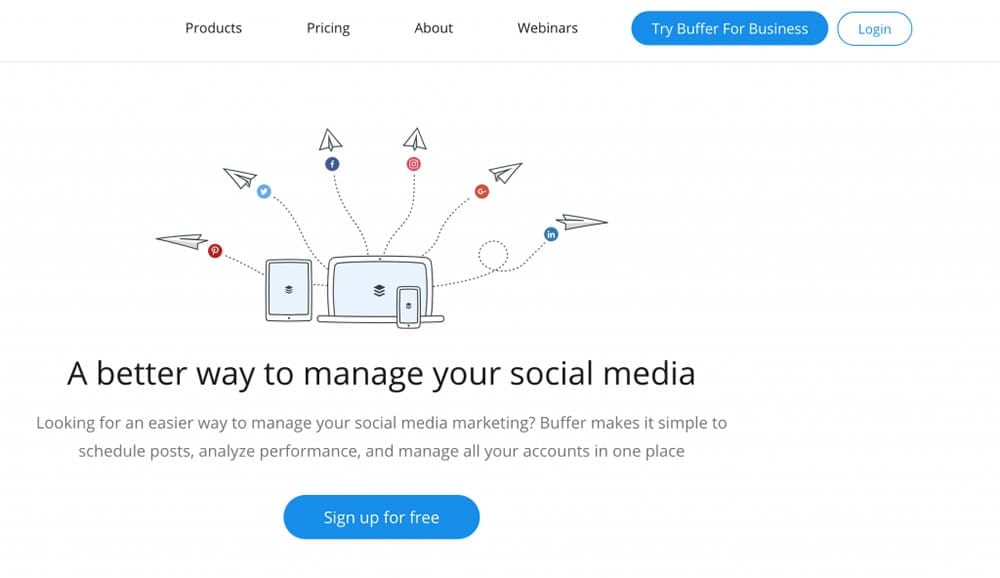 As you'll soon learn below other trends like increased use of video and scrolling-based websites both enhance this minimalism trend.
18. A Large Focus on Mobile
Today more people access the internet from their mobile devices than they do from a laptop or standard computers. This means that your design must offer a stellar mobile experience. Offer a poor mobile experience or a site that doesn't function properly on a mobile device, and you're going to lose a lot of your users.
If you haven't gone responsive yet, here's another thing to consider. Most users will start their search journey on their mobile devices.
Plus, sites that aren't mobile-friendly won't rank as well in the search engines. So, not only will your site receive less traffic from the search engines, but any traffic that you will receive will have a difficult time actually using your site.
Making your website mobile-friendly isn't so much a "trend" as it is an essential web design best practice. The most effective way to embrace mobile devices is to upgrade your site to a responsive web design. With a responsive web layout your site will automatically adjust to the screen size it's being viewed upon.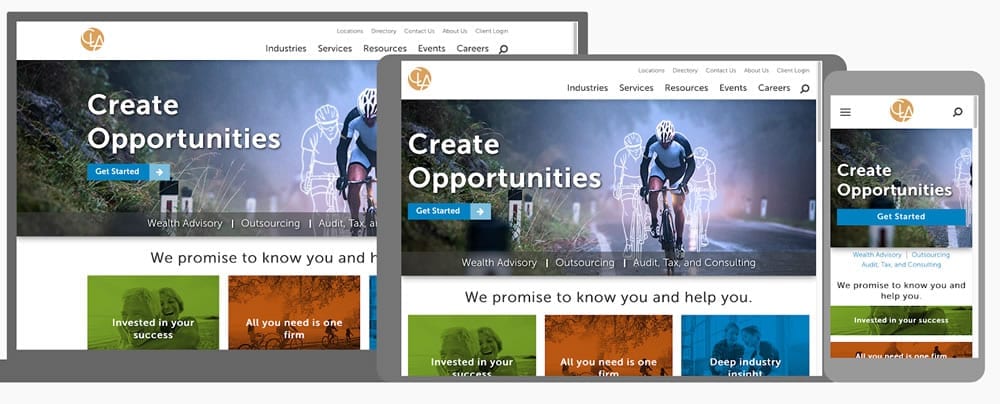 19. Embedded and Integrated Video
Video is exploding in popularity online. All signs suggest that video is the future. Even social media networks like Facebook and Instagram are doubling down on video content. Plus, YouTube is already the second largest search engine in the world.
If you haven't embraced video, it's not too late. In fact, one of the emerging web design trends is embedding video into your website.
Video is an incredibly engaging medium. How many times have you continued to watch a video, just because it started playing on the site you're on? And we're not talking about annoying video pop-ups either that you can't seem to turn off, no matter how hard you try.
Instead, we're talking about creating intentionally engaging videos that act as an actual part of the design of your site. Instead of standing out they play an integral role in keeping users on your site and informing them about your products and services.
These don't have to be incredibly long videos either. Think of them as moving design elements whose goal is to intrigue and capture the attention of your visitors.
Adding videos to your website and content can also have the added effect of improving your site's search engine rankings. Google has user engagement metrics which act as indicators of a quality site. Sites where users spend more time will be given a higher ranking, as these metrics suggests a site is very high quality.
20. Broken Grid Layouts
You might already be familiar with grid layouts. A grid is essentially a hidden series of horizontal and vertical lines that your website's elements will adhere to.
You can see the classic grid at work on most existing websites. You have the logo in the upper left-hand corner, and the navigation menu extending across the top of the screen, along with any other elements arranged below it in an orderly manner.
But, with a broken grid layout, you'll see elements that make the grid seem broken. There will be overlap of design elements, along with text and photos that don't adhere to the traditional grid. Usually, this is done to give emphasis to certain elements of your website.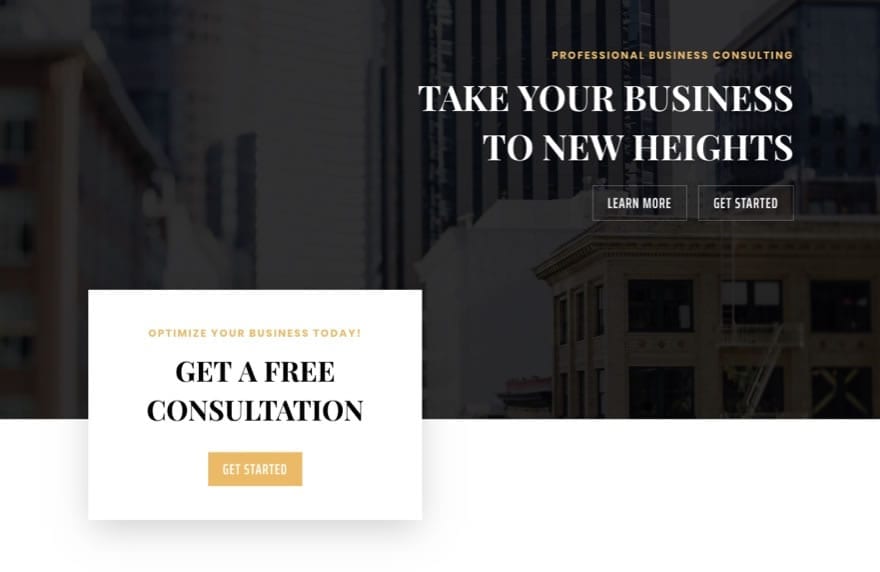 However, to be effective with a broken grid layout it needs to be done intentionally. Otherwise, you run the risk of having a website that simply looks confusing or jumbled. The worst is a website that ever-so-slightly breaks the grid. Upon first glance, it might not look like something is wrong, but you and your visitors will get the feeling that there's something off about the website.
Beyond the broken grid there's also been an increase in the use of fluid and more comfort inducing shapes. With more natural and free form shapes you can induce a different feeling in your users when they land on your site. Instead of the purely rigid and geometric designs of days past, those pushing the edge of web design are introducing more natural shapes.
21. Nostalgic Design Elements
The 80s and 90s are back in full force, and we're not just talking about shows like Stranger Things and books like Ready Player One.
A previous web design trend that's been in place for years has put an emphasis on flat and modern design, creating minimalist websites that look like they were born in the future. But, just like fashion moves in a circular fashion, so do our web design trends.
This doesn't mean you should create a 90's site that looks like the first rendition of a Geocities page. Instead, you should take design cues from previous generations as a whole.
This means embracing color schemes and taking typography cues from generation's past. By embracing the past you can create a new and wholly unique design. Since the web didn't really exist back then in the state it does now, you can create designs that haven't been seen on the web before.
If this web design trend speaks to you, consider implementing color schemes from times past. Or keep an eye out for a cool old-school font you can use for your headers or your logo.
22. Sites that Encourage Scrolling
If you've had your website online for any time at all, then you're probably aware of the term "above the fold". This means that all of your important graphic design and branding elements should be above the fold of your site, so it's the first thing your website visitors will see without having to scroll.
It seems that web users of the past used to hate scrolling down the page with their mouse, trackpad, or thumb.
But, today's web users are much different. Most website visitors don't mind scrolling in the slightest. This trend could be rising due to apps like Instagram, which actively encourage scrolling down the app. Combine this with the preference to access the web via mobile devices, and you've got a scrolling match made in heaven.
As a result, this gives you more real estate to work with when designing the style and layout of your website. Instead of trying to cram everything into the space above the fold, you can utilize your entire screen. This allows you to create more logical and enticing pages that hook your visitor's attention as they scroll further down your screen.
In accordance with making sites more scrollable, you'll also want to think about implementing thumb-friendly navigation. When people are using their mobile phones to navigate a website they take many different actions and interact with the website in a different manner.
One of the easiest ways to ensure your site is in alignment with this growing trend is to include a hamburger navigation menu. This allows users to more easily select the page they want to visit.
23. Intentional Data Collection
Most websites will collect some form of data. Today, with the recently introduced General Data Protection Regulation (GDPR), the collection and storage of data have become even more important.
This has led website owners to evaluate how they go about collecting data and being more intentional with the kind of data they're collecting.
For example, if you have an intake form on your website do you really need their location data or even their phone number? Or, maybe you currently integrate with Facebook as a login alternative. Although this saves you time, it might not lead to the best impression for your company.
No matter if it's a contact form, email signup form, or even having tracking cookies on your site, you'll need to be very transparent about the data you're collecting, why you're collecting it, and what you're doing with it.
When thinking about any forms you have on your site think about what's the minimum amount of necessary information you can collect.
Sites that place an importance on user privacy will not only ensure their sites stay compliant with the latest privacy guidelines, but will also be the sites that create a strong and trusting visitor relationship.
What These Design Trends Mean for Your Website
By keeping up with the latest web design trends you can help predict where the online world is going. If your website is a crucial part of your business, then it's important to stay up to date with what's currently going on online.
Today's web users are savvier than ever, and spend more time online than ever before, with the advent of smartphones and the advancement of the mobile web.
Spend some time analyzing the trends above to see how you can apply any of them to your website, or where you can enhance your existing design.
The quickest way to lose your visitors' trust is to have a website that looks old and out of date. That doesn't mean you need to adopt every single trend above, but instead see how you can bring your website into the future and in tune with the kind of website your users expect to see.
Hopefully, you have a better idea of the trends you'll start to see across the web this year. Whether you're going to undergo a redesign or not, these trends are important to think about now and into the future.
Ready to put these trends in web design into action? Get started with simply contacting us. We'd be happy to discuss your project with you today with tomorrow's graphic design trends in mind.
https://artkenya.net/wp-content/uploads/2020/01/200103_banner3.jpg
640
1500
artkenya
https://artkenya.net/wp-content/uploads/2016/06/logo_transp.png
artkenya
2020-01-03 13:03:41
2020-01-03 13:22:43
20+ Web Design Trends of 2020